Hi! It's Ayu here. We have another privilege to try Benton cosmetic new product which is PHA Peeling Toner*. Benton has provided this product for review purposes. All opinions are, as always, my honest thoughts.
I was so excited when they launched this product teaser. I've always been a fans of PHA since it's milder than AHA or BHA but still very effective to exfoliates dead skin. I also like their PHA peeling gel but exfoliating toner is easier to apply rather than physical exfoliator. Now, let's talk about this toner highlight .
Benton PHA Peeling Toner is a gentle exfoliating toner that help smoothes and hydrate skin. So, other than exfoliates dead skin, this toner also has hydration function. It is also mild enough for sensitive skin. PHA peeling toner main ingredients are third generation PHA, Centaurea Cyanus Flower Water & Chrysanthemum Morifolium Flower Extract, Sodium PCA, Sodium Hyaluronate.
PHA is used because it's safe from photosensitivity compared to AHA and melts impurities on the skin while forming a water barrier, leaving the skin smooth and clear. It has acidic pH and is similar to AHA or BHA which is known to be efficient in managing skins oiliness, whiteheads and blackheads. Third-generation PHA (Lactobionic Acid) is high-valued and safer than second-generation PHA (Gluconolactone).
Centaurea Cyanus Flower Water & Chrysanthemum Morifolium Flower Extract have a good scent and are filled with great ingredients such as vitamin A, B1 and adenine. For the skin, they are known as natural moisturizing water and soothing water. They also have antioxidant, anti-inflammatory properties.
Sodium PCA is an ingredient that has excellent moisturizing properties. Similar to Hyaluronic Acid, it absorbs moisture from the air and hydrates the skin, making it an excellent ingredient for moisturizing. It is a Natural Moisturizing Factor which can improve moisturizing ability up to 50% compared to glycerin. Sodium Hyaluronate is an excellent moisturizing ingredient which absorbs moisture from the air and hydrates the skin. It is a Natural Moisturizing Factor with effective hydrating properties.
Ingredients : Aqua (Water), Centaurea Cyanus Flower Water, Pentylene Glycol, Lactobionic Acid (3%), Glycerin, Sodium PCA, Propanediol, Chrysanthemum Morifolium Flower Extract, Oleanolic Acid, Sodium Hyaluronate, Sodium Gluconate, Dipotassium Glycyrrhizate, Enantia Chlorantha Bark Extract, Ceramide NP, Allantoin, Butylene Glycol, Caprylic/Capric Triglyceride, Hydrogenated Lecithin, Phytosteryl/Octyldodecyl Lauroyl Glutamate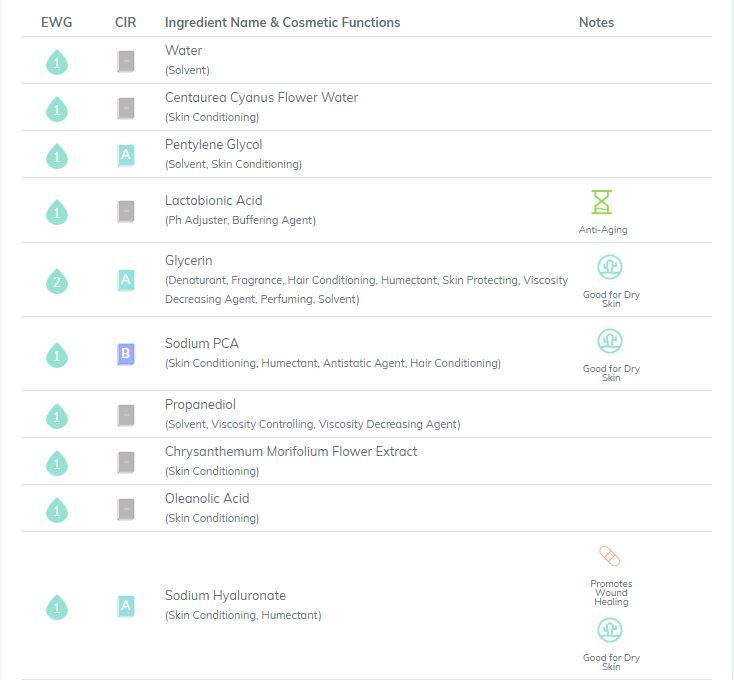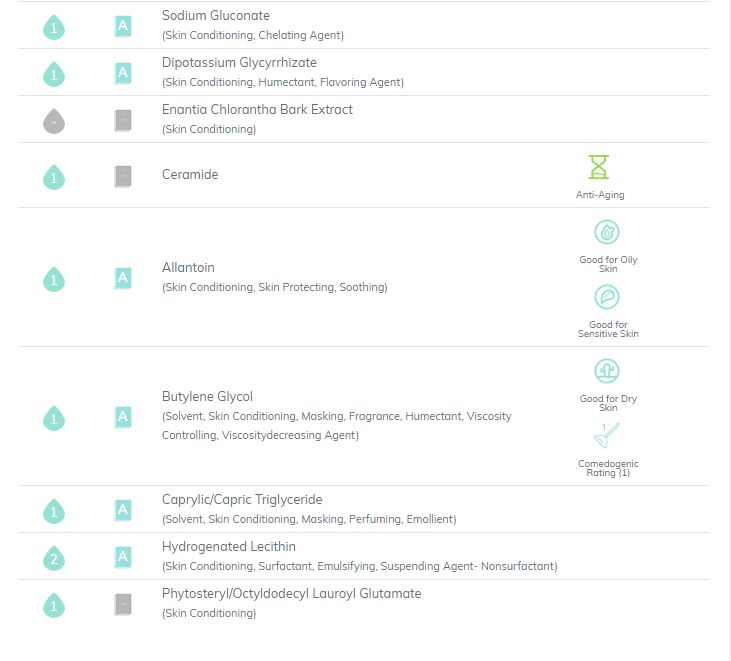 source : skincarisma.com
This peeling toner is also free of artificial fragrance, coloring, volatile alcohol, PEGs and other controversial ingredients. It is a mildly acidic and dermatology tested product.
My thoughts
I've used for almost three weeks, 2-3 times a week at night, and it's been great! How I use it? I put the toner on a cotton pad and then gently wipes it on my face. This has watery texture and has almost no smell. This toner gives no bad reaction nor it stings my skin. It is very gentle on my sensitive skin. I can also already feel the effect of this toner. My skin texture is better and smoother. For the past three weeks, I didn't use other exfoliating products but this product effectively keeps my skin cleans and healthy.
For their packaging, they use a pump plastic bottle which is very convenience to use. They also gives a cap to keep the pump safe and clean.
In conclusion, I think this toner will be very good to anyone who have sensitive skin and need a gentle exfoliating product. This is another product from Benton that I'll use for a long-term.
Thanks!
#Benton #bentoncosmetic #BentonPHAPeelingToner #PHAPeelingToner #PeelingToner #Toners #exfoliation #Peeling #ExfoliationToner #MoistGlowExfoliatingToner #MildPeeling #MoistGlowPeeling #KoreanSkincare #Kbeauty #Deadskincells #Sensitive #LowIrritation #moisture #Hydration #Peeling #PHA #Deadskincellscare