Hi! Today, I want to talk about another new product from Benton. It is the Aloe Real Cool Soothing Gel*.
*This product was sent by Benton in exchange of my honest review.
Aloe Real Cool Soothing Gel contains 93% of Aloe Barbadensis Leaf Extract which is rich in polysaccharides, moisture, and nourishment. This gel helps hydrate and soothe stressed skin from UV rays. This gel also acts as a fresh water-based moisturizer without oiliness. This gel is suitable for all skin type, especially dry & sensitive skin. One of the best thing from this Aloe gel is that it's free from volatile alcohol, artificial fragrance, coloring, PEG surfactants, and other controversial ingredients.
Instead of using volatile alcohol, Aloe Real Cool Soothing Gel cools and soothes skin with 'Soothing Cooler', a compound patented in Korea which consists of five botanical ingredients. The Soothing Cooler is a combination of Aloe Barbadensis Leaf Extract, Laminaria Japonica Extract, Dioscorea Japonica Root Extract, Ulmus Davidiana Root Extract and Viola Mandshurica Flower Extract. They are patented compound botanical extracts that lower the temperature of the skin, soothing and managing suppleness of the skin.
Ingredients:
Aloe Barbadensis Leaf Extract(93%), 1,2-Hexanediol, Propanediol, Laminaria Japonica Extract, Dioscorea Japonica Root Extract, Ulmus Davidiana Root Extract, Viola Mandshurica Flower Extract, Glycerin, Pentylene Glycol, Cocos Nucifera (Coconut) Fruit Extract, Pinus Sylvestris Leaf Extract, Carbomer, Arginine, Sodium Phytate.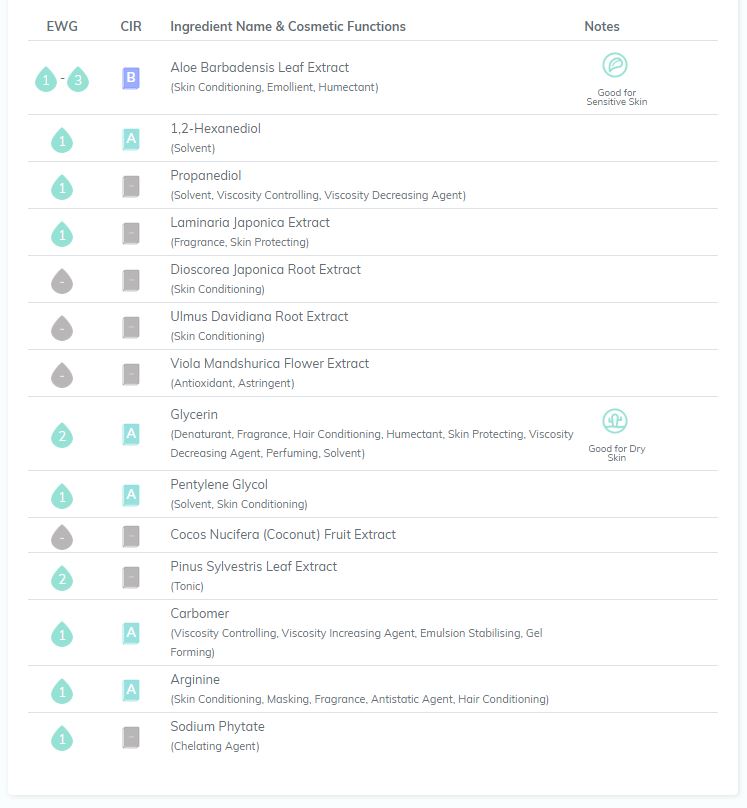 source : skincarisma.com
This product ingredients have 1-3 EWG score which is safe to use for sensitive skin. The packaging comes in a big plastic jar of 300 ml gel. This gel can be used for face, body or even hair. On their website, Benton suggests a few different ways to use this gel. You can use it as a mask pack, soak cotton pad on Aloe gel and put it on the face for a few minutes. Or you can also mix it with Benton Aloe BHA Skin Toner in a spray bottle and use it as an instant hydrating and soothing face mist. They also suggested to store it in the refrigerator for extra cooling effect.
My thoughts
When they first posted a teaser of this product on Instagram and said that this Aloe gel doesn't have any additional fragrance, I'm really really excited. Other Korean Aloe gel in the market always have a strong fragrance which bothers me a lot and hesitates to use it on the face. I've used 1/3 jar of this gel in two weeks. I mostly use it on my body and face. For my body, I use it to hydrate my skin. For my face, I use it as a face mask using a cotton pad.
This Aloe gel is a quite thick gel which has no color. This gel absorbed really fast into the skin and didn't leave any stickiness. It doesn't have any smell which I very much love. I've tried other Korean brand Aloe gel, and this is so far is my favorite. The biggest score for this product is the no-fragrance ingredients. Will definitely repurchase this in the future! ❤️
Thank you for coming by guys! See you soon & Have a nice day!
#Benton #Bentoncosmetic #AloeRealCoolSoothingGel #BentonAloeRealCoolSoothingGel #SoothingGel #Aloe93 #Cooling #AloeSoothingGel #SkinSoothing