Benton Hyaluron Aloe Cream* review.
Hi! It's Ayu. I got this from @bentoncosmetic in exchange with my honest review about two weeks ago and I've been using it ever since. Now, I want to talk a little about it.
This is a moisturizer in a form of cream. This cream contains 40% of Aloe Vera Leaf Water which is rich in polysaccharides and 7-Hyaluronic Acid Complex that hydrates and nourishes skin. Aloe helps soothe and protect the skin, while the 7-Hyaluronic Acid Complex vitalizes all skin types. As usual, this Benton products doesn't have artificial fragrance & coloring and other controversial or harmful ingredients.
Benton's Aloe Hyaluron Cream is dermatologically tested, mildly acidic product which helps fully hydrate and reduce burden for sensitive skin. It is a product which is suitable for skip-care, which utilizes simple skincare steps.
Aloe has been used since the ancient Greek times as a folk remedy. Rich in polysaccharides, aloe is used in many fields from food to cosmetics. Rich in moisture, aloe is an excellent ingredient for hydration and soothing, helping to leave skin clear and revitalized.
7 types of Hyaluronic Acid with different molecular weights hydrate and protect skin step by step :
Sodium Hyaluronate(High Molecule) – Maintains an outer moisture layer on the skin helps moisturize.
Sodium Hyaluronate(Middle Molecule) – Helps maintain skin's elasticity and suppleness in the dermis (inner skin).
Sodium Hyaluronate (Low Molecule) – Hydrates fibers in the skin.
Hydrolyzed Sodium Hyaluronate – Helps moisture infiltrate into damaged skin quickly.
Hyaluronic Acid – Polysaccharides protect skin from the infiltration of harmful external stressors.
Sodium Hyaluronate Crosspolymer – Helps maintain moisture in the outer layer of the skin.
Hydrolyzed Hyaluronic Acid – Moisturizing factor helps moisturize skin from the dermis and vitalizes.
Ingredients : Aloe Barbadensis Leaf Water, Aqua (Water), Butylene Glycol, Cetearyl Alcohol, Cetyl Ethylhexanoate, Glycerin, Polyglyceryl-3 Methylglucose Distearate, Pentylene Olivate, Sorbitan Olivate, Aloe Barbadensis Leaf Juice Powder, Arginine, Carbomer, Panthenol, 1,2-Hexanediol, Zanthoxylum Piperitum Fruit Extract, Usnea Barbata (Linchen) Extract, Pulsatilla Koreana Extract, Xanthan Gum.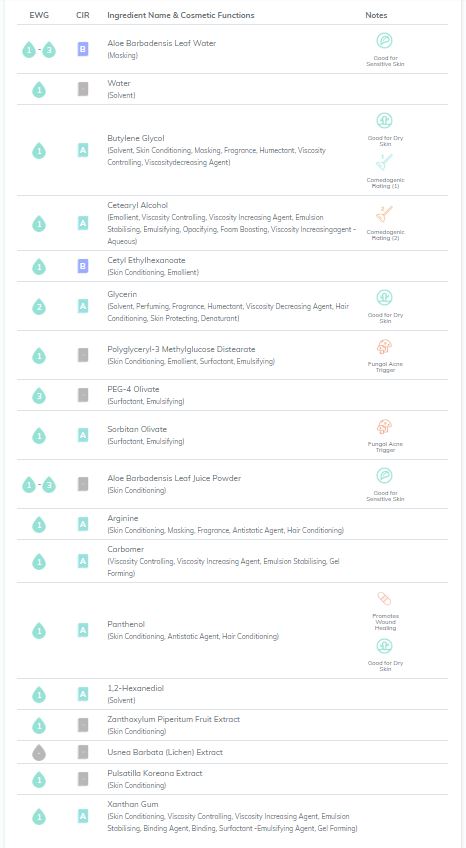 via skincarisma.com
My thoughts:
Now on to my opinion. This moisturizer has a light texture for a cream. It has no scent at all which I really like. Despite the light texture, this cream takes time to absorb into the skin, I had to spread it really evenly on my face so that there's no white cast left. After that, it leaves a smooth finish, not greasy or sticky at all. I usually use this as my last step in my skincare routines (in the morning, it's before I apply sunscreen). I really love how moisturizing it is without giving heavy feeling on my face. For soothing effect, I didn't really see anything from it. But the good thing is, it didn't make my pimple worse or even break me out.
Overall, this is a very nice moisturizer with light texture, nice packaging (I prefer tube than jar for moisturizer) and great hydrating effect. Would love to recommend this for sensitive skin and any skin types. Lastly, I would love to repurchase this in this future.
Thank you for reading my review! See you again. 🙂