Hi! It's Ayu. I've been talking about my body skin condition on my other posts, it's sensitive, dry and I've suffered from eczema many times. Because of that, I started to change my daily product to more safer ingredients. Most of supermarket liquid soap have SLS in it, and it's drying my skin. Now, I never use them anymore, I shift to natural soap bar instead. The brand that I will review now is my first natural soap. For deodorant, I recently read about 'bad' ingredients on common deodorant, so I decided to try a natural one.
Let's start with the soaps!
This brand, Island Mystk, is the first natural soap that I tried. P bought this from me when she went to Bali. She got the blue one which is an Exfoliator soap. It has small scrubs inside the soap. The scrubs are quite rough, but I never rub the soap directly on my skin. Either I rub it on my hands first or I use it with a shower puff.
Impression: I love this soap! It's not drying, it smells nice and cleanse well. The most dominant scent is from Coconut Oil and Spearmint oil. My husband said that common liquid soap can't really wipe off his deodorant residue from his armpit, but this soap does. I have repurchased this soap twice just because I like it so much.
Ingredients : Saponified Coconut Oil & Palm Oil, Rice milk, Honey, Rice bran, Tea Tree, Spearmint Essential Oil.
The next one is Luminous Lemon from Island Mystk. This one has no scrubs particle in it, it's more simple soap. It has quite a strong citrus smell and just as moisturizing as the blue one.
Ingredients :  Saponified Coconut Oil & Palm Oil, Rice milk, Honey, Lemon Essential Oil.
Moving on to the deodorant.
This Goodvibes deodorant is my first natural deodorant. It says that this deodorant fight odor & wetness. Many people say that you should do an armpit detox before converting from common deodorant to a natural one, but I didn't do any detox beforehand. I just stop using my common deodorant for a few days before started using this natural deodorant. First few weeks I didn't really sweat much so this was okay for me. However, after a month, I go out in a very hot weather and sweat a lot. I just smelled so bad that time, after that I stopped using this deodorant. It doesn't fight odor at all. I think it's okay if you a don't sweat a lot person, but I'm the real opposite of it.
The other thing that I dislike from this product is that the deodorant very easily melt. I store in a room temperature (around 25-26 degree Celcius) but it becomes too soft, like almost melting. This makes application quite difficult. It is very sticky it left some on the lid. I also suggest that they do an improvement on the packaging too, cause the roller is broken after a few times use. So, I can't roll back down the stick and I cannot close the lid properly.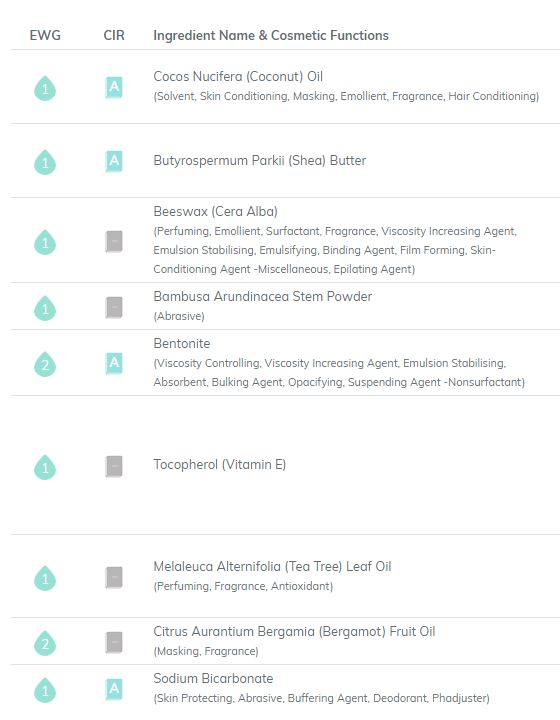 from skincarisma
This product retails on around 75 K IDR (5 USD).
Ingredients : Cocos Nucifera Oil*, Butyrpermum Parkii*, Cera Alba*, Marantha Arundinacea Powder*, Bentonite Clay**, d Alpha Tocopherol**, Malaleuca Alternifolia (Tea Tree) Oil*, Citrus var. Bargamia (Bergamot Bergaptene Free) Oil*, Sodium Bicarbonate (<1%)**
*organic certified, **ecocert approved
I'm still open to trying other natural deodorants though. Any recommendation for a budget-friendly natural deodorant?