Hi! It's Ayu here. It's been a while since my first blog post on TSTC. Finally, after a lot of thinking, we move our blog to a new address! Yeay, so excited to start a new diary and hope you'll like it 🙂
Now, for the first review, ever, in this blog, we will share our experience using a skincare line from Muji. We started trying Muji skincare last year when this brand's skincare lines finally available in Indonesian stores. We were curious as it is a reputable brand from Japan. So, we decided to give it a try!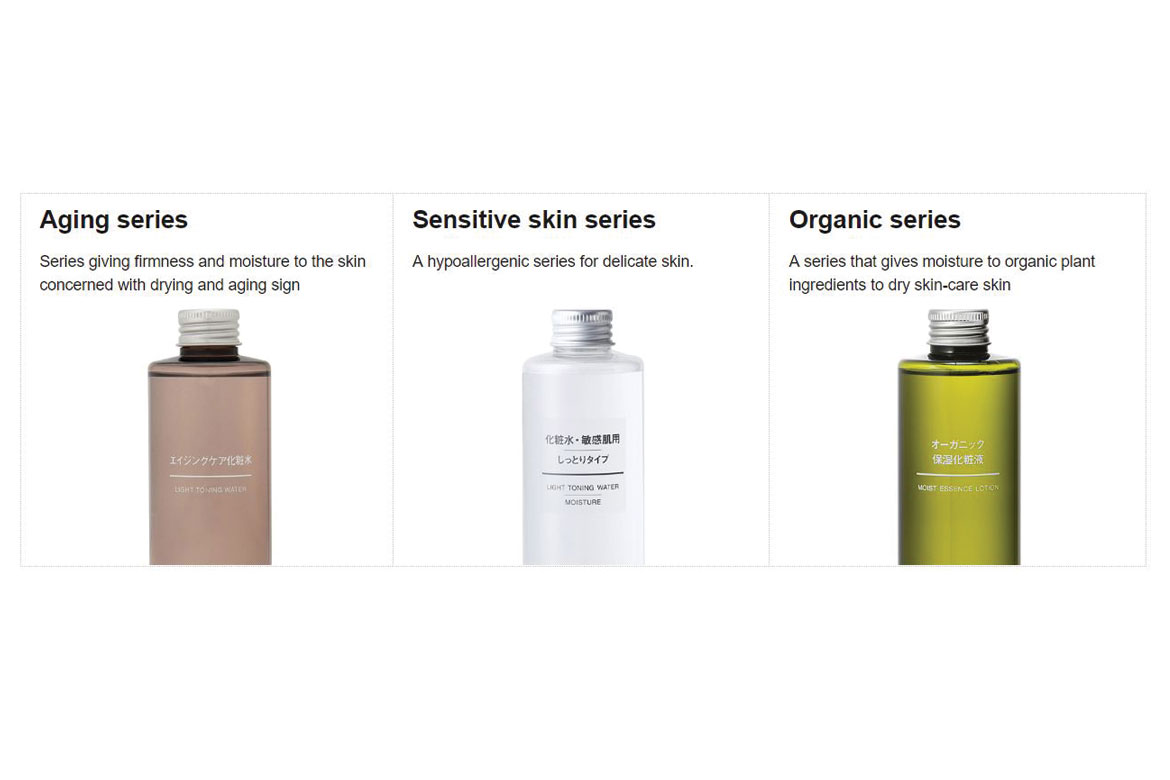 Above picture is taken from Muji website.
Muji has several skincare series (such as Sensitive, Aging, Organic, etc.), but only the Sensitive and Aging series that were available in our country. Sensitive series is for people who have sensitive skin and it is said that the line is free from Paraben, coloring, fragrance, Alcohol and uses mineral oil. The Aging skincare series claims that they provide elasticity and moisture to dry skin or aging skin and also free of fragrance and coloring. The last one that we've tried is the Organic series that has a herbal essential oil fragrance and made for dry skin.
So let's start!
Muji Sensitive Series Light Toning Water in Light (200 ml)
Our first Muji skincare product is this Muji Sensitive Series Light Toning Water in Light. First of all, this product claims that it is
made using natural water from Kamaishi in Iwate prefecture that provides fresh hydration for sensitive skin that dries easily, it also contains purslane extract, grapefruit seed extract and Lipidure (polyquaternium-51), a material containing a large amount of moisture, as skin protection components, low-irritation, making it gentle on delicate skin (all description are taken from Muji website).
We use this toning water after we wash our face. The bottles originally didn't come with a spray head (it was sold separately), but it is better used with a spray head so we can just spray it all over our face easily. Sometimes we soak some Muji Peelable cotton pad with this toning water and make it into sheet mask. How does it feel on our skin? It is quite moisturizing but not enough for our dry skin ( I think the Moisture type would suit us better).
Is there any significant change in our skin after we finished the bottle? Not really. This product is okay and does what it claims to be but that's it. It is soft enough for sensitive skin like mine cause I don't have any problem while using this product. For the price, it's quite affordable ( around 10 USD for 200 ml).
Ingredients list :  Water, DPG, Glycerin, PEG-32, Glycosyl Trehalose, Hydrolyzed Starch, Purslane Extract, Polyquaternium-51, Citrus Grandis(Grapefruit) Fruit Seed Extract , PCA-Na, Citric Acid, Sodium Acid Citrate,  Allantoin, BG, Phenoxyethanol.
For ingredients analysis, you can check it here.
Muji Aging Care series Light Toning Water in Light (400 ml)
Next, another Toning Water from Muji. It is Muji Aging Care series Light Toning Water in Light. This is an Anti-Aging skincare line from Muji. The one that I had was an old version of the Aging Care series. The new ones have slightly darker brown color and more transparent bottle. I was interested in this product, even though I'm still in my late 20's, is this has collagen and 'richer' ingredient in it. On their product description, it is said that
the product contains five types of functional ingredients including Pomegranates, Strawberries, Rose and other natural ingredients and also Hyaluronic Acid, Collagen and other functional ingredients that keep skin moist and smooth.
Does it have any significant differences from the Sensitive series one? I might say yes, it is more moisturizing for my skin. I don't have any problem with this toning water too. This product is two times more expensive than the Sensitive one, it cost around 22 USD for 200 ml.
Ingredients list :  Aqua, Dipropylene Glycol, Glycerin, Alcohol Denat, PEG-32, Rosa Damascene (Rose) Flower Water, Phenoxyethanol, Butylenes Glycol, Methylparaben, Sodium Citrate, Citric Acid, Fructan, Polyquaternium-51,Polysorbate 80, Prunusarmeniaca (Apricot) Juice, Rubus Idaeus (Raspberry) Juice, Prunus Persica (Peach) Juice, Citrus Medica Limon (Lemon) Juice, Sodium Hyaluronate, Rosa Centifolia Flower Extract, Hydrolysed Collagen (Peptone), Sodium Acetyl Hyaluronate, Punica Granatum (Pomegranate) Fruit Ectract, Calendula Officinalis (Calendula) Flower Extract, Lavandula Angustifolia (Lavender) Flower Extract, Anthemis Nobilis (Chamomile) Flower Extract, Arnica Montana (Amica) Flower Extract, Soluble Collagen.
Muji Organic series All In One Essence (100 ml travel size).
Another interesting item from Muji skincare is the All In One Essence. They also came in different series ( Sensitive, Aging, etc.). It's is currently unavailable in my country, I bought the Organic series when I traveled to Singapore and the Sensitive series in Japan. The All In One Essence product is a combination of Toning water, Lotion, and serum in one bottle. First one, with the green tube, is Muji Organic series All In One Essence.
Product description (taken from their website): Skincare series made using natural water from Kamaishi in Iwate prefecture. Contains vitamin C and E derivative as the active ingredients, preventing blemishes and freckles due to sunlight. 8 organic plant extracts and organic aloe vera combined to make natural moisturizing ingredients.
Unlike the Sensitive and Aging care series, the Organic series has a citrus smell in it. The smell didn't bother me at all, actually, I like the fragrance of this essence. It is a very simple essence, they also did not claim many things from this product. It only said that it has moisturizing effect & prevent blemishes. Texture wise, it is quite concentrated but not very thick and can be easily absorbed into the skin. I actually like this essence, but the only thing that concerns me to repurchase is that it contains some ingredient that I try to avoid right now (such as Paraben).
Ingredients list : Water, Glycerin, Aloe Vera Juice, BG, Dimethicone, Gluceth -10, PEG-75, PEG-32, -10 Poly Glycerin, Olive Fruit Oil, Jojoba Seed Oil, Polyquaternium -61, Polyquaternium -51, Glycosyl Trehalose, Hydrolysis Water Hydrogenated Starch, Hyaluronic Acid Na, Althea Root Extract, Chamomile Flower Extract, Peppermint Leaf Extract, Sage Leaf Extract, Thymus Vulgaris Flower / Leaf / Stem Extract, Jojoba Leaf Extract, Lavender Flower Extract, Rosemary Leaf Extract, Squalane, Polysorbate 80 , Polysorbate 60, Carbomer, (Hydroxyethyl Acrylate / Acryloyldimethyltaurate Na) Copolymer, (Acrylates / Acrylic Acid Alkyl (C10-30)) Crosspolymer, Hydroxide K, Phenoxyethanol, Methyl Paraben, Propyl Paraben, Butyl Paraben, Fragrance.
Muji Sensitive series All In One Essence (200 ml)
I bought this 6 months ago, and I still use it now. I use it once or twice a day and it's still half full. Like the other Sensitive series line, it has no fragrance, that's a plus for me. It is moisturizing enough for me, besides using it alone on my skincare routine, I usually mixed this with my makeup foundation to add more moisture. This product is okay for me, I would give it 3 out of 5 points if I have to score it.
Ingredients list : Water, Butylene  Glycol, Glycerine, PEG-32, Pentylene Glycol, Olea Europaea Fruit Oil, Dimethicone, Ethylhexyl Palmitate, Glycosyl Trehalose, Hydrogenated Starch Hydrolysate, Polyquaternium-51, Portulaca Oleracea Extract, Sodium Hyaluronate, Citrus Grandis Seed Extract, Squalane, Polysorbate 60, Acrylates/ C10-30 Alkyl Acrylate Crosspolymer, Hydroxyethyl Acrylate/ Sodiumacryloyldimethyl Taurate Copolymer, Potassium Hydroxide, Phenoxyethanol. 
For ingredients analysis, you can check it here.
Muji Sensitive series Moisturising Milk in Light (400 ml and 100 ml)
My favorite item from Muji Skincare products is this Moisturising Milk. I have repurchased a few times. At first, I bought the travel size one to try it out and thankfully it works fine for me. The second purchase was the 200 ml one ( I already throw out the bottle) and the last one and I'm still using it is the 400 ml one. I refill my travel size bottle with the lotion from the bigger bottle because the travel bottle is more convenient to use. If I have to buy a facial lotion again, I would get this again for sure.
Ingredients list : Water, Dipropylene Glycol, Octyldodecyl Myristate, Pentylene Glycol, Cyclopentasiloxane, Beeswax, PEG-32, Squalane, Behenyl Alcohol, Glyceryl Stearate, Glycosyl Trehalose, PEG-75 Stearate, Polysorbate 60, Phenoxyethanol, Hydrogenated Starch Hydrolysate, Carbomer, Arginine, Allantoin, Xantham Gum, Butyl Methoxydibenoylmethane, Butylene Glycol, Glycerine, Grapefruit Seed Extract, Polyquaternium-51, Portulaca Oleracea Extract.
If you want to know the ingredients analysis, you can check it here.
For texture comparison here we have a photos below. Moisturising milk is more liquid, and the essence is more dense but still watery.
That's it for our Muji skincare reviews. Thanks for coming to our web. See you soon on another brand review!
Have a nice day!
---
Written by A. Photos by A & P.